Subscribe to our NewsLetter!

Subscribe to our NewsLetter to be informed about Rethymno cultural events, exhibitions, displays, shows and much more!
Cultural Events
For more information about events on Rethymno please visit the following Official Websites about the events: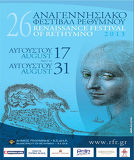 We invite you in the 26th Rethymnon Renaissance Festival. Enjoy with us early music concerts, theatrical performances, exhibitions and play philosopher's games in the magical setting of Rethymnon, from the 17th to the 30th of August.
For more information about Renaissance Festival of Rethymno 2013 please visit the following Official Website: http://www.rfr.gr