Marina of Rethymno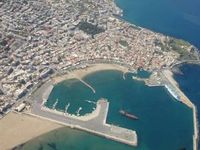 THE MARINA OF RETHYMNO is located within the port of Rethymno on the eastern side and features:
Total pier length (including floating piers)
800 metres
Sailing depth
Between -3.5
and -4.5 metres
Land surface area
20,000 m2
With 174 vessel spaces along the floating piers, and spaces alongside the piers for larger vessels, the Marina can accommodate any vessel traffic. To be more specific, docking of any vessel is possible under the following conditions:
| | |
| --- | --- |
| Vessel length |      between 8 & 40 metres     |
| Draft |      a maximum of -3.5 metres |
Docking spaces are allocated as follows:
40 spaces L< 8m bow/stern inclusive
36 spaces 8m < L< 10m bow/stern inclusive
84 spaces 10m < L< 12m bow/stern inclusive
10 spaces 15m < L< 18m bow/stern inclusive
2 spaces L < 25m sideways
1 space L < 20m
1 space L < 40m
The Marina is located within the urban district. Consequently, facilities such as sailing equipment stores, banks, supermarkets, shops, public transport and entertainment facilities useful to visitors travelling by vessel are available within walking distance.
SKETCH OF THE MARINA OF RETHYMNO
More details:
- Surrounded by the city, the Marina is just 100 metres from amenities like sailing equipment stores, supermarkets, cafés, restaurants, laundromats, car and motorbike rentals.
- The Marina houses a branch of the Marine Scout Association and the Yachting Club of Rethymno in the same building as many different sport activities are held.
- The Marina also houses a first-aid station run by the Hellenic Red Cross.
- In addition to the above, facilities for chess and other sports (mini-soccer, beach-volleyball, beach tennis) are available in the heart of the beach during the summer months.
- The fire-brigade is 5 km away, with all necessary equipment available and the area is patrolled regularly, while the town's Hospital is located 1 km from the Marina. The international airports of Chania and Heraklio are located 75 and 85 km away, respectively.
- The Marina Administration Office is housed at the offices of the Municipal Port Authority Trust, located at the gate of the Marina.
| | |
| --- | --- |
| SUPPLIES | AVAILABILITY |
| WATER SUPPLY MAIN | * |
| POWER SUPPLY (220W, 360W) | * |
| HELLENIC POST OFFICE BOX | * |
| ATM – COMMERCIAL BANK | * |
| INTERNET | * UNDER INSTALLATION |
| SANITATION FACILITIES (TOILETS, SHOWER CABINS WITH HOT-COLD WATER) | * IN THE MIDDLE OF MARINA, UNDER THE DOLPHIN STATUE |
| WASTE COLLECTION & SEWAGE TREATMENT DISPOSAL SYSTEM | * WITHIN THE YEAR 2010 |
| GARBAGE BINS & SPECIAL BINS FOR  LUBRICANT DISPOSAL | * ALONGSIDE THE MARINA |
| SUPERVISION OF THE AREA BY SECURITY COMPANY | * |
| VISUAL VESSEL SCANNING SURVEILLANCE SYSTEM | * |
| CAR PARK | * SUPERVISED |
| ENCLOSED AREA FOR TRAILERS & VESSEL STORAGE DURING WINTER MONTHS | * |
| CRANE FOR LIFTING MACHINERY OR SMALL BOATS | * PROVIDED BY MUNICIPAL PORT AUTHORITY TRUST, UP TO 3 TONS * PROVIDED BY INDIVIDUALS, UP TO 20 TONS |
| INCLINED PLANE FOR LIFTING (RAMP) | * |
| PERMANENT DOCKING | * |
| REPAIR ZONE FOR SMALL BOATS | * UNDER CONSTRUCTION, FOR MINOR REPAIRS INVOLVING BOAT SAFETY |
| MAINTENANCE & ENGINE REPAIR | * PROVIDED BY INDIVIDUALS |
| MAINTENANCE & BOAT REPAIR | * PROVIDED BY INDIVIDUALS |
| FISHERMAN & ANGLER ACCOMMODATION | * |
| FIRST AID STATION | * HELLENIC RED CROSS |
PHOTOGRAPHS OF FACILITIES IN THE MARINA OF RETHYMNO