Rethymnian history, culture and local products on Strasbourg from October 22nd-28th 2012
Rethymnian history, culture, local products and people, will have the opportunity to go to Strasbourg from October 22nd till 28th, 2012
At the end of the tourist season the city of Strasbourg will have the opportunity to open a window on Rethymno, on our people, history, culture, tradition and local agricultural products, the best things we produce! A unique exhibition that will be held for seven days in Strasbourg to explore Crete and promote Rethymno as a destination to the French market.
The city of the European Parliament, the Council of Europe, the European Court of Human Rights and the city of fairy tales will host a week devoted to the Municipality of Rethymno.
Stransbourg, located at the borders between France and Germany and with a population of 500,000 people, is a melting pot of both French and German culture, thus becoming World Heritage of Unesco.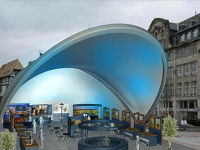 In the paradise of history and culture, in the heart of the French tourism market, the city of Strasbourg hosts the Municipality of Rethymno in a series of cultural, tourist, and commercial activities, having the aim of promoting both the intercultural dialogue and cooperation between the two cities.
The ancient and modern culture, the Cretan diet, the promotion of Cretan products, tradition and tourism are the main themes that will be presented for the whole week.
Objectives of the organization are:
The international promotion of Rethymno
The promotion of Cretan culture
The dissemination and promotion of L 'art de vivre - the Cretan diet, local products and traditions
The promotion of local agricultural products in French market
The tourism development (promotion of Rethymno as a European and international tourist destination)
Changing the negative image of Greece abroad - recovery our credibility
Besides activities dealing with the tourist promotion of Rethymno, the seven-days events program will be focused especially on parallel exhibitions on archaeological findings and contemporary art that will last for a whole month. Furthermore the activities that will take place in Strasbourg will also include discussions in public buildings, such as the University of Strasbourg, the building Laiterie and public places, such as square Kleber which will host the main stand of the Municipality, and other selected advertising and promotional activities at selected spots in the city.
Files